Back in 2013 State Bike Co. and Wu Tang Brand collaborated on a fixed gear bike. This limited edition bike was created to celebrate the Wu Tang Clan's 20th anniversary. The bike featured the official Wu Tang Killa Bees colors black and yellow and it came with Wu Tang Brand tags all over.


This was definitely a nice collaboration and a dope bike to have in the collection if you were one of the lucky one's to get your hands one.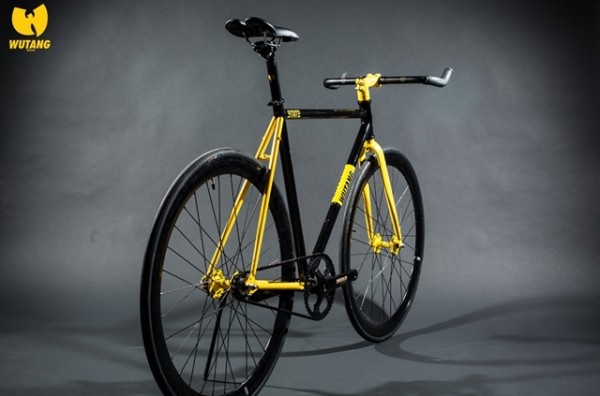 OFFICIAL PRESS RELEASE:
Wu-Tang, widely considered to be among the greatest hip-hop groups of all time, is collaborating with Tempe-based bicycle company State Bicycle Co. to release a line of custom-outfitted fixed gear and single speed road bikes to commemorate the Wu's 20th year of bringing the ruckus and shaping urban street culture.
The State Bicycle Co. Wu-Tang Brand 20th Anniversary Ltd. Edition Bike is tastefully branded with Wu-Tang imagery from bars to bracket. An engraved Wu-Tang branded stem holds a set of bullhorn handlebars atop a boldly painted chromoly TIG-welded frame, all of which feature the unmistakable markings of the Wu.

State Bicycle Co.'s influence on Arizona's urban cycling culture has been incalculable. The majority of fixed-gear riders on Arizona State University campus can be seen riding a State bicycle around the city of Tempe. When it comes to mobilizing street culture Wu-Tang sets the standard for success and his is how State Bicycle Co. pays tribute to the legends.